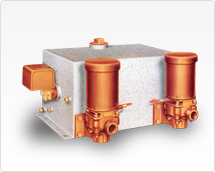 Aurora Duplex Condensate Pumps Systems – Series 220
Key Features
Aurora Single Stage Condensate Pumps and Boiler Feed Pump
Typical Aurora Condensate Pumps Applications Include Condensate Service and Boiler Feed Service
In Aurora Duplex System, Single Pump Operation Provides Service when Capacity and Demand Calls for Normal Service
Two Model 323 Aurora Pumps Operate Alternately to Extend the Life of Both Pumps
Space-Saving Compact Design requires Minimum Floor Space Along a Wall or in a Corner
Aurora Back Pull-out Case Design Simplifies Disassembly
Aurora Condensate Pump Features
Long Life Fabricated Steel Receiver minimizes corrosion. Galvanized steel or cast iron receivers are optionally available. Walls are 3/16″ thick to ensure long life. Threaded inlet vent, drain and gauge glass connections are provided. Included are mounting holes for bolting to floor or base.
Back Angle Thermometer provides accurate readings from 40°F to 260°F and is optionally available.
Brass Water Level Gauge glass assembly is furnished optionally, complete with shut-off valve and protector rods.
Aurora condensate Pump Trouble-Free Float Switch has adjustable travel to permit 1-1/2 times maximum return rate between stops. Combination float switch and alternator is standard on duplex condensate units.
Aurora condensate Pump Interchangeable Design provides future system expansion. All receivers are fitted for duplex operation. If requirements change, the second pump can be easily added without receiver modification.
Aurora condensate Pump Stainless Steel Shaft is designed for minimum deflection, not to exceed .002″ at the sealing faces at maximum load. Average bearing life is 10 years.
Aurora condensate Pump Back Pullout Case Design simplifies disassembly. The suction base and discharge piping or alignment is not disturbed as the casing remains in the pipe line. An O-ring seals the casing to assure maximum trouble-free sealing.
Aurora condensate Pump Low Noise Level operation vertical close-coupled motors are built to Aurora Pump's exacting quality control specifications. I. High Temperature mechanical seal has carbon against ceramic face for optimum hot water performance. Long life is assured with 316 stainless steel metal parts and Buna-N elastomers. A relief line provides adequate venting of the seal chamber and circulation to the seal faces.
Aurora condensate Pump Dynamically Balanced Impeller is keyed to the shaft and secured by a cap screw and washer. Vacuum casting and quality controlled manufacturing process assures consistently high performance. Enclosed design provides highest efficiency and lowest wear for long, trouble free service life.
Aurora condensate Pump Bronze Wear Ring provides a positive seal, minimizes leakage losses and, in case of wear, ring is easily and inexpensively replaced. L. Compact Vertical Pumps provide a low suction inlet and protect the motor from flooding. Center line discharge minimizes pipe strain and is available in four alternate piping combinations.